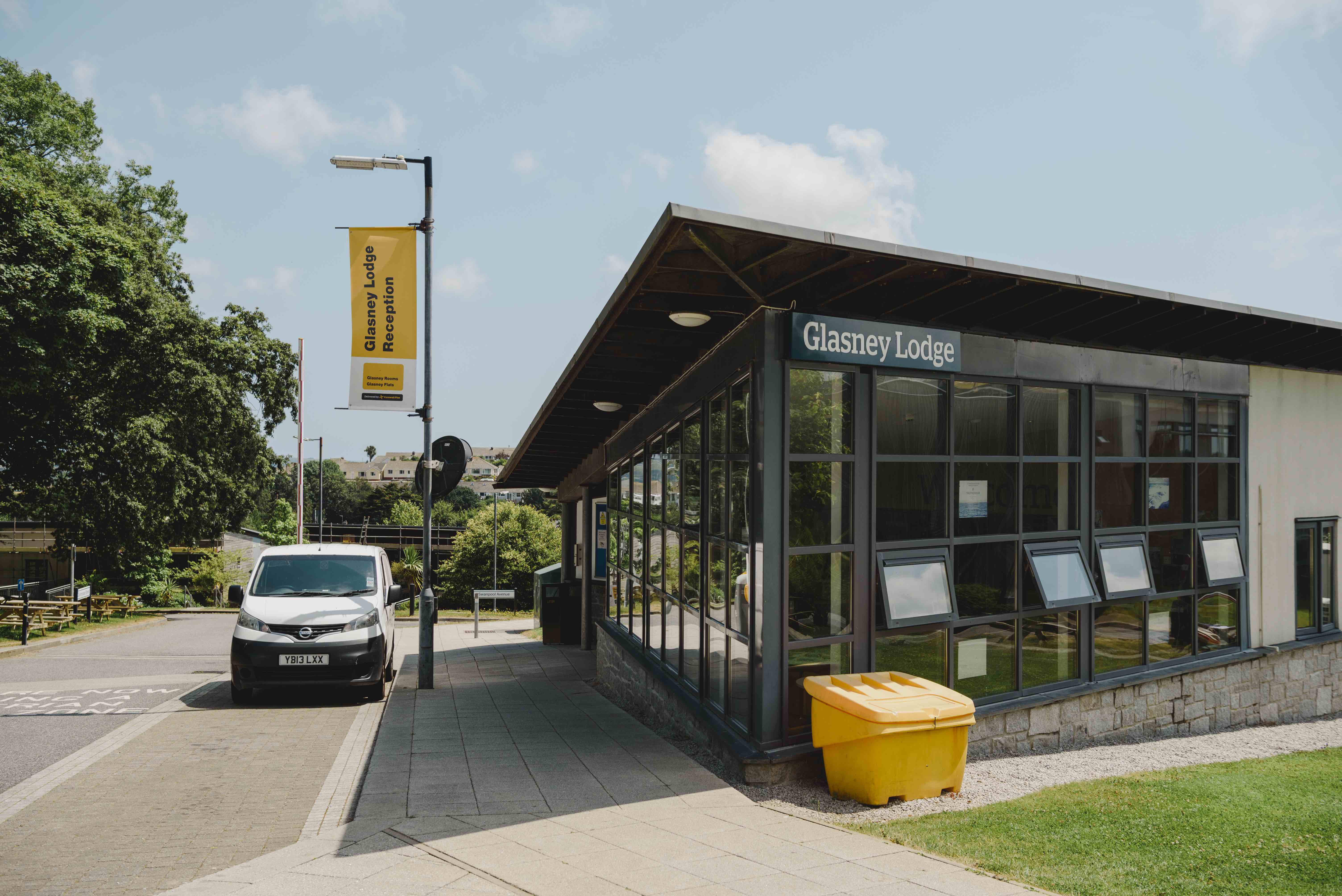 Frequently Asked Questions
Are bed linen and towels provided?
Yes. One hand towel and one bath towel is provided per person and beds are fully made. You can request additional pillows or duvets from reception should you need them.
Can I bring my pet?
Sorry no, with the exception of guide dogs, pets are not allowed in the accommodation on campus. If you are bringing a guide dog, please advise us in advance of your arrival.
Are towels provided?
Yes, towels are provided for our guests.
Can I have an extra bed in my room?
No, sorry. Extra beds are provided in any of the rooms. Rooms are not large enough for additional beds.
Can I have more than two people in my room?
No. Due to fire safety regulations, the double and twin en suite rooms are for a maximum of two people. There is no capacity for extra beds in the bedrooms.
Can I leave my luggage at reception?
Yes, you can store luggage temporarily, subject to availability of space.
Can I use the Sports Centre?
The Sports Centre is pay-as-you-go and has a gym and fitness classes. You can also hire the Sports Hall for badminton, indoor football, or table tennis etc. A range of fitness classes for all abilities (zumba, kettle bells, spinning) are running throughout the week. Please visit or call the Sports Centre for the latest admission prices - 01326 370770.
Do I need to let you know when I am arriving?
No. Glasney Lodge Reception is open 24 hours a day so your key will always be available for collection for your check-in time.
Do you provide travel cots?
Travel cots are not provided for any of our properties. You are welcome to bring your own small travel cot, but you are strongly advised to ensure that fire exits are kept clear at all times. We advise that any cot is positioned at the window side of the bed.
How far away is the beach?
There are four beaches in Falmouth, which is approximately a 15 minute drive from the campus. Gyllyngvase Beach is a popular beach with a large car park, water sports facilities, rock pools, gardens and a wonderful café bistro situated right on the beach. For further details of the other beaches and local visitor attractions, please see the Explore Cornwall pages on this website.
How secure are the rooms?
Access to rooms is controlled by security keys or fobs. Individual bedrooms for Glasney Rooms are also accessed via keys which will be issued at check-in. Please note, bedrooms do not lock automatically behind you and guests are responsible for ensuring that they lock their rooms when necessary.
Is breakfast provided?
Our Glasney Rooms and Glasney Flats are self-catering. The Stannary Restaurant is open Monday to Friday serving a full English Breakfast. Koofi, our licensed Café is also open daily, serving pastries, breakfast baps and barista coffee for breakfast. There is a communal kitchen in each corridor which you are welcome to use to prepare your own breakfast. This is a shared space so please respect fellow guests and clean up after yourself. Catering packages can be pre-booked for large groups if required.
Is there a lounge area?
There is no lounge area or soft seating area for Glasney Rooms or the 7-bed Glasney Flats.  However, there is access to a communal kitchen with a dining table and chairs.
Is there parking?
Yes, free parking is available on campus for all guests. We operate a drop-off system so you can unload luggage at Glasney Lodge to take to your room. There are multiple car parks across the campus which are within a short 5-10 minute walk from your accommodation. If you have accessibility requirements, please contact us - booking@fxplus.ac.uk
Is Wi-Fi available?
Free Wi-Fi is available. Log-on details are available at Glasney Lodge reception when you arrive.
What if I develop COVID-19 symptoms?
If you develop Covid-19 symptoms, please take a PCR Covid test ASAP, self isolate in your accommodation, and inform
Glasney Lodge Reception
on
01326 253503.
 For further information about accessing PCR tests while on holiday see the
Cornwall Council website
.
What if I have a positive Covid-19 diagnosis?
If you have a positive Covid-19 diagnosis, you must return home immediately, where practical to do so. If this is not possible due to illness, or because you had travelled via public transport or you are with other members of a group that aren't affected, then we can accommodate you until the symptoms have passed. Again, you will be liable for this cost in all but exceptional circumstances. Extending your stay due to illness
This will have consequences in terms of us having to cancel or rearrange bookings (some of which may be at a higher rate due to the time of year). However, it may be able to extend your stay at a cost which is no higher than the standard rate for that period. Please contact Glasney Reception for further details.
What time is check in and check out?
Check in time is 4pm onwards. Check out by 10am.