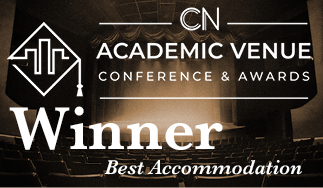 We are proudly celebrating a prestigious double, having scooped a national award for Best Accommodation with Academic Venue Solutions and an impressive silver in the British Educational Youth Travel Association Awards.
During the height of the most recent summer season, we welcomed around 5700 visitors into the county with the attendant boost to the local economy. Of these visitors, 3,963 people stayed with Cornwall Plus across 68 different groups in July and August. A significant portion of these, 47%, were visiting as part of a youth group.
As well as hosting business and technology conferences such as 'Agile on the Beach' who returned for their sixth year, and the University of Exeter's three day Research and Medical conference, Cornwall Plus accommodates numerous summer schools for local youths and their leaders, including the National Citizen Service (NCS) project 'Discovery' on self-development.
NCS Programme Manager for the Argyle Community Trust, Todd Hanrahan, said: "I want to say a huge thank you for your support across NCS this summer. We have managed to engage over 500 young people in Devon and Cornwall and couldn't have done it without you".
Judges were impressed with the initiatives that the team go to, to provide an exceptional and tailored experience for organisers and their delegates. A bold new website has been developed in-house on a limited budget with fresh content, better navigation and usability.
The team have introduced an option to translate the website into a wide range of languages and a dedicated international page includes information about language support, Library access, food and drink and advice on Brexit and travel. Foreign Language classes are encouraged to help our teams interact with international visitors. These classes were taken up by 84 staff in 2018.
A major Kinetics accommodation and events management software upgrade and staff training programme took place this year which has transformed and streamlined operations. The upgrade has simplified the BOOK NOW process for guests.
Cornwall Plus Marketing Manager, Jennie Hosken, said "This win means so much to us, it is the first time that we have entered these awards, and we are thrilled to be recognised for our efforts on a national forum for Best Accommodation. We work hard to accommodate and satisfy the needs of our groups and family and independent travellers to make summer stays with Cornwall Plus a real success".